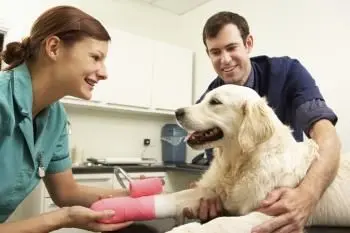 At East Valley Emergency Pet Clinic our professional staff is dedicated to providing urgent and emergency pet care for the residents of Diamond Bar, CA, and the surrounding areas. We offer a complete emergency care suite to care for any urgent medical needs your pet may have. Our well-coordinated team will work together to give your pet a comprehensive medical treatment program. When your regular veterinarian is closed and you've got a sick or injured pet, we're here to help in any way we can.
Comprehensive and Thorough Pet Surgical Care in Diamond Bar, CA
Unfortunately, some pet emergencies are so severe that they require surgical intervention. Our doctors are experienced in dealing with a variety of surgical emergencies. Our entire staff coordinates as a team to give your pet the most comfortable and least frightening experience possible. Surgical procedures can come in many forms, including:
Cardiovascular
Fracture Repair
Hip Replacement
Urological Problems
Arthroscopy
Bone and Joint Problems
Abdominal Troubles
Ligament Repair
Neurosurgery
Eye Surgeries
If you have any questions about the types of canine and feline surgeries we do, please feel free to call our office at 909-895-0150.
What constitutes a pet emergency surgery? It's needing a procedure to preserve life or to prevent further injury to the pet. If an animal is suffering from a wild animal bite or excessive bleeding for any reason, it's cause for an emergency visit. Other reasons for our surgical team to step in would be auto injury accident, excessive bleeding, sever vomiting or diarrhea, wild animal bit wound and toxic ingestion. Our animal hospital in Diamond Bar, CA is fully staffed and equipped with state-of-the-art surgical suites. Our anesthetic and monitoring equipment is of the highest quality, and our pain management programs will ensure your pet's comfort in all steps of the surgical process. Injuries and surgical procedures can be frightening for pets and our compassionate team work hard to ease your pet's fears as well as its pains. Our on-site lab and pharmacy help to make sure your pet gets the most complete care in one location.
Medical emergencies can be frightening at any time, and even more so when you can't contact your regular veterinarian. Our compassionate team will do everything possible to make sure your dog or cat is comfortable, from the first moment of check-in until it's healthy and discharged. When your pet has recovered we'll give you detailed instructions on how to give your pet the best post-operative care at home, including a list of instructions on caring for wounds as well as information to transmit to your regular veterinarian.
We take pride in the quality of our care, and the pet residents of Diamond Bar, CA recognize that. We also treat pets from Ontario, Chino Hills, West Covina, Glendora and all the surrounding communities. If your pet suffers from any sort of medical emergency please call our office at 909-895-0150. We'll advise whether surgery or other treatment is necessary immediately.