When you have a pet that has been bitten by fleas or ticks, it can cause serious health problems. It is always best to use flea and tick prevention to stop problems before they develop. For pet vaccinations and parasite prevention for fleas and ticks, contact our veterinarians at East Valley Emergency Pet Clinic in Diamond Bar, CA.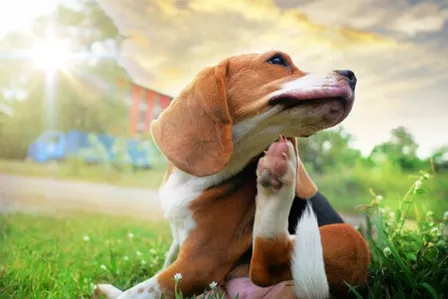 Fleas and Their Bites
Fleas may seem like no more than a nuisance, but they can cause several serious health conditions. When a pet is bitten by a flea, it is typical for the bites to be itchy and irritating. Those bites can also cause an allergic reaction called flea allergy dermatitis as well as other allergic reactions. This can be serious in some pets. Some cats and dogs will get anemia from blood loss if they are bitten often. Pets can also develop murine typhus from these bites. Fleas can also transmit tapeworms to a pet that ingests a flea while scratching. Flea bites can lead to cat scratch disease. Many of these conditions are serious and can negatively affect the overall health of your pet.
Ticks and Their Bites
Tick bites can spread several dangerous diseases and conditions in pets. One of the best known of these is Lyme disease. Lyme disease is a serious illness that can often be fatal. Tick bites tend to be itchy and become irritated or even infected. In addition to Lyme disease, pets can get anaplasmosis, ehrlichiosis, Rocky Mountain spotted fever, hepatozoonosis, bartonellosis, and babesiosis. These conditions can come with serious health issues and many of them can be passed to humans. It is best to have a flea and tick prevention method in place to prevent these bites.
Prevention for Fleas and Ticks
Many great medications on the market are safe for pets and will keep away fleas and ticks. These preventative measures include chewable varieties that are easy to get your pet to eat. There are pills on the market that can be added into treats or peanut butter to make them easy to take. There are also injections that a pet can get to keep it safe for up to a year with each injection. Our veterinarians will help you choose a method that is best for you and your furry friend.
Find Quality Flea and Tick Prevention Products in Diamond Bar, CA
Before a pet can be put on a form of parasite prevention medication, it needs a comprehensive exam to determine what method is best for its breed, weight, age, and lifestyle. Dr. Shepherd and Dr. Chu at East Valley Emergency Pet Clinic are here to help your cat or dog find the parasite protection it needs to stay protected from these pests. Call our team today at (909) 861-573 or reach us through our website by using our online contact form.